To celebrate the arrival of Spring, here's a simple and nourishing meal including seasonal asparagus, to be enjoyed at any time of day. You can serve this as it is for a light, low carbohydrate meal or add wholegrain toast to make it more substantial.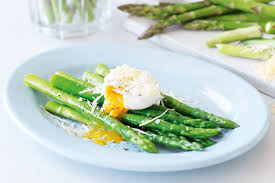 Makes 2 portions
160g asparagus spears
4 medium eggs
80g parmesan cheese
Black pepper
Bring 2 saucepans of water to the boil. Add the asparagus to 1 saucepan and simmer for 5 minutes, or until just tender.
Meanwhile, reduce the heat of the second saucepan to a simmer and carefully crack in the eggs, one at a time. Poach for 3 minutes, or until the whites are just set but the yolks are still soft. Remove with a slotted spoon.
Drain the asparagus and divide between 2 warmed plates. Top each plate of asparagus with 2 eggs and shave over the cheese. Season to taste with pepper and serve immediately.