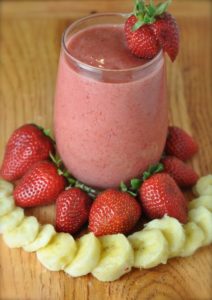 Maca, a Peruvian super food which grows at high altitudes in the Andes, is considered an 'adaptogen' as it works wonders for improving energy levels and helping you cope with the stressful demands of modern life.
It has a positive effect on our hormonal system, helping to correct hormone imbalances in the body and has a malty, nutty taste that works well with almond milk and banana in this smoothie.
Maca is also known as 'nature's viagra' as it is best known for its aphrodisiac qualities. It is also popular with athletes as it helps improve endurance and performance.
Makes 1 portion
1 tsp chia seeds
1 tsp ground flaxseed
1 tbsp Maca powder
400ml unsweetened almond milk
100g strawberries
1 small ripe banana
120g organic natural yoghurt
1 Medjool date (pit removed)
Place all the ingredients in a blender and blend until well combined. Add extra water to lessen the thick consistency if you prefer.