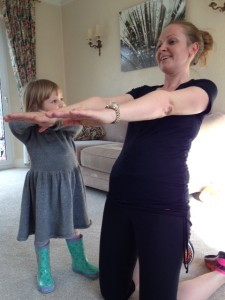 I just love this photo of my beautiful client, Natalie and her daughter training together and having fun.
I know it's hard to fit in workouts when you're a busy Mum but by incorporating  a fun activity where children can join in too, there's a way to get your workout ticked off the list without the need for a babysitter or creche.
I offer home visits within London, Brighton and the surrounding areas so please get in touch if you would like to discuss setting this up. I'm fully trained in pre and post natal exercise and nutritional planning.